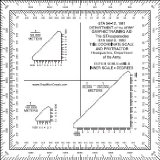 To determine a grid azimuth with a Military Square Protractor, first identify your start point on your map. Use a sharpened pencil and mark your start point as Point A. Then identify your end point on your map. With that same sharpened pencil, mark the end point as Point B. Connect the point you want to navigate to with your current location. Draw a line through both your position and the point you plan to travel to. Extend the line through the points to make it easier to estimate the azimuth you'll be traveling on. Once you have connected your start point with your end point you can place the center of a military square protractor on your start point (any map protractor is fine as long as it details the 360 degrees of a circle). The line traveling from the start point to the end point will travel through one of the 360 degree tick marks of the protractor circle, and is the grid azimuth you are required to travel on.

The Military Square Protractor (see Amazon Store Page for link to a Seller), GTA 5-2-12, contains two scales: one in degrees (inner scale - the scale used for our discussion) and one in mils (outer scale - mils are used to provide additional detail for precision directions). The protractor represents the azimuth circle. The degree scale is graduated from 0 to 360 degrees; each tick mark on the degree scale represents one degree. A line from 0 to 180 degrees is called the base line of the protractor. Where the base line intersects the horizontal line, between 90 and 270 degrees, is the index or center of the protractor.

The azimuth is the most common military method to express direction. When using an azimuth, the point from which the azimuth originates is the center of an imaginary circle. This circle is divided into 360 degrees. Think of yourself as standing in the middle of a clock face. Think of the clock numeral 12 as at the north side of the clock face. If you face the 12 (north), the 3 is on your right (due east), the 6 is behind you (due south), and the 9 is on your left (due west). Azimuths work in much the same way as the clock numerals, although with greater precision. Instead of 12 points to your compass, you have 360. Again, think of yourself standing on the clock face. The 1 is to your right front at an azimuth of 30 degrees. The 8 is to your left rear, at an azimuth of 240 degrees.