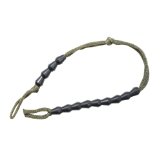 To build on land navigation skills individuals must have a good understanding of how far they have travelled under a variety of conditions. To achieve this we use our individual Pace Count to track the distance we have moved during operations. Pace count is unique to leg length, height and physical condition which have a direct impact on an individual's stride or the distance between their steps. For the average person a pace, or step, is a unit of length equal to 30 inches (0.76 meter). Knowing your pace count over a measured distance is a quick reference tool you can use understand distance traveled during movements.

To be effective at finding different points on the ground, especially during limited visibility you must know how many steps you take to cover 100 meters which is better known as your "Pace Count." Once you know how many steps you take to cover 100 meters you then keep track of each 100 meter
increment travelled with a simple tool called a pace counter (see included picture from Rothco). Each bead in the bottom set of beads is used to keep track of each 100 meter block traveled. Once you complete the first 100 meters
you pull a bead down and repeat the process for each additional100 meter block of distance traveled. Once you have counted 9 beads (900 meters) and an additional 100 meters you pull one of the 1000 meter beads down in the top set
and then reset the 100 meter counter beads on the bottom by pulling all of the beads up and restarting the process. Pace Counter systems are a must during long distance movements and when moving with limited rest. Pace count beads are also referred to as "Ranger Beads" due to their popularity during light infantry movements where they assist soldiers with keeping track of pace while maintaining security and formation discipline during movements.

To learn your unique pace count, measure out a 50 meter course on flat terrain. Walk naturally and count every other step while covering the 50 meters. I count every time my left foot strikes the ground since I carry my compass with my right hand. If it takes you a count of 30 left foot strikes to cover 50 meters your pace count for 100 meters would be 60.

To achieve the optimum understanding of your pace count, individuals must set up different 50 meter pace count courses that include variables such as: flat terrain, rough terrain, running and nighttime courses. By practicing your pace count under different conditions you will build confidence in your ability to navigate from one point to another. When setting up pace count courses, I recommend using a length of Engineer Tape (see earlier post for engineer tape description) which is easy to follow during rough terrain and night pace count courses. Periodically or prior to mission execution individuals should confirm their pace count on a course using the terrain they are operating on.