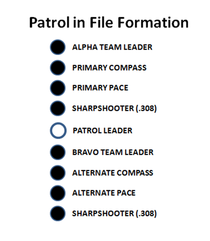 A " patrol" is an organization sent out by a larger group to conduct specific combat, reconnaissance, or security missions. Patrol's are organized based on the required mission and usually consisting of a nine individual element called a "squad" allocated between two teams and a leader (see attached Patrol in File Formation diagram). Weapons are allocated within the patrol in a manner in which the two teams can mutually support each other and operate as autonomous elements that can support each other during actions upon contact. The patrol is the organizational element and the organizational foundation that future discussions on planning and tactics are to be based.

The primary function of a patrol is to find the enemy in order to conduct one of the following activities: to engage him or report disposition, location and actions. Patrols operate as small elements to avoid detection allowing them to act as both the eyes and ears of a larger group and if required can deliver a group's lethal force against an unsuspecting enemy. Key to a patrol's success is their ability to strike fast and a quickly withdrawal, with minimal casualties, before the enemy has the ability to effectively reorganize.

The action of patrolling or conducting a patrol is the fulfillment of a larger organization's assigned mission (task) and reason (purpose) for sending out a patrol.