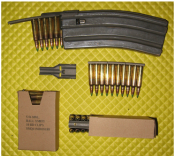 When shopping for AR accessories pick up some M16/AR-15 stripper clips (sometimes referred to as a charger). Stripper clips are magazine speed loaders that hold ten 5.56 cartridges (see example with loaded stripper clip). Stripper clips are an easy way to reload your magazines when at the range or conducting tactical operations. Stripper clips fit all mil-spec 30rd and 20rd magazines, working really well on Magpul mags. To connect the stripper clip to your magazine you must purchase a
stripper clip magazine adapter (also described as a filler guide, a foot or a spoon) which is needed to align the stripper clip to the AR magazine. Once the stripper clip is inserted into the magazine adapter all you need to do is press on the cartridges from above, sliding them down and off the clip,"stripping" the cartridges into the magazine. The picture displays a 30rd
magazine partially loaded with the stripper clip connected to the magazine with an adapter (another adapter is displayed separately center picture). After the magazine is loaded, the stripper clip and adapter are removed and set aside for future reloading. See the Amazon Store page for additional research/information on stripper clips and stripper clip guides.