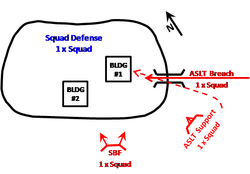 The general rule throughout history is the Attacking Force should have three times the combat force than the Defending Force resulting in the 3:1 Force Ratio Rule. The reason the attacking force must be so large is to account for losses during obstacle breaches and the dislodgement of defenders from fortified positions. A smaller attacking force assumes to much risk by not having the ability to focus enough combat power to penetrate the defender's reinforced position. When attacking a squad sized defensive position, the attacking force consists of the following three elements: Support Element (1xSquad), Assault Support Element (1xSquad) and Assault Breach Element (1xSquad).
To illustrate the "3:1 Rule" the attached sketch depicts a squad size element (9 individuals) defending against a threat force consisting of three Squads (27 individuals). The following threat narrative depicts the pictured attack. "Support Element (1xSquad) suppresses enemy forces on the OBJ to prevent the concentration of fire on the assault element, on order assist with actions on the OBJ. The ASLT Support Element (1xSquad) establishes an intermediate support position to suppress defenders closest to the breach, on order assaults through the breach to secure the OBJ. ASLT Breach Element (1xSquad) reduces wire obstacle and secures the far side of the breach."

The 3:1 rule can be altered if the attacking force has a significant benefit over the defender in one of the following areas: firepower, equipment, training, moral and strength of the defense (Hasty Defense vs. Deliberate Defense).