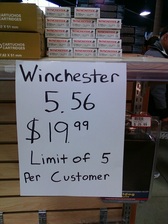 I'm still shocked ammo prices are where they are at today. The attached picture is
from my favorite hunting store known for discounted ammo. Maybe I'm dreaming,
but I do have trust prices are going to come down soon. Due to increased ammo
cost there is a lot of interest in reloading. Please comment to this post on where the best information/sites are for individuals wishing to reload. There is so much information out there a lot of people do not know where to start. From my own experience getting in to reloading I thought my RCBS Rock Chucker Supreme Press starter kit would quickly get me started. I soon found out that I needed a number of additional items. The current market is really tight on getting dies, brass and other items. Recently, it took almost 3-weeks to get my .223 dies. For those that didn't keep your brass at the range I'm sure now you wished you would have picked up what could.