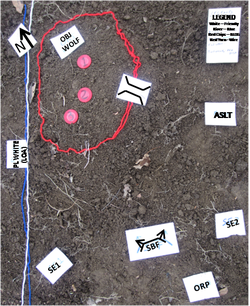 The purpose of this post is to provide a brief narrative that outlines the key aspects of the terrain model in the attached picture. The narrative reflects a discussion of only the layout of the terrain model and does
not discuss the movement of elements, and details behind the operation that would include specifics on signals used to initiate fire, to shift fire and a detailed discussion on actions on the objective.

When briefing a terrain model the briefer must familiarize/orient the participants on the key aspects of the terrain model. The following is an example of how the narrative could be phrased.

Basic Terrain Model narrative: "I will now orient you to this terrain model representing the raid on OBJ WOLF. The terrain model is oriented in the direction of travel to the OBJ, which is northeast at a 55 degree azimuth. To the top left of the terrain model is the North seeking arrow. To the upper right of the terrain model is the Legend depicting the following: OBJ WOLF highlighted with red yarn. The three buildings on OBJ WOLF are marked with red poker chips with BLDG 1 in the northeast, BLDG 2 in the center, and BLDG 3 on the southwest corner of the OBJ. PL White, in white yarn, is the Limit of Advance (LOA) and is located on the northwest side of the OBJ and is placed just east of the river which is depicted with blue yarn. The terrain around OBJ WOLF consists of rolling hills with the vegetation cleared on the OBJ and cleared out to 300 meters immediately around the OBJ. The only water obstacle near the OBJ is the river located to the northwest of the OBJ. Friendly Elements near the OBJ are to position themselves within concealed positions within visual contact of OBJ WOLF. The Support element establishes a Support-by-Fire (SBF) position south of the OBJ and the Assault (ASLT) element establishes a position southeast of the OBJ. I have identified a breach location on the southeast corner of OBJ WOLF. The security elements SE1 and SE2 are to position themselves west and east of the SBF position."