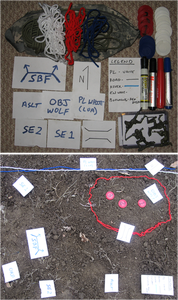 One of the most important tools in anyone's rucksack is a Terrain Model Kit. Prior to any operation leaders must visually communicate how the operation is to occur. There is no better tool to communicate mission requirements and to achieve mission understanding by all participants then a mission rehearsal conducted on a terrain model. The terrain model depicts subordinate unit locations in relation to each other during each phase of the operation and provides a forum to discuss everyone's role during mission execution. The ability to replicate the operating environments terrain in a scaled down model is essential for leader understanding of the mission and leader visualization of the advantages and disadvantages the terrain has on both friendly and enemy cover, concealment and fields of fire. A basic terrain model is oriented in the direction the patrol will be traveling on, displays routes to the objective and highlights key terrain features the patrol will encounter during movement. A second terrain model is used to display detailed information of the layout of the objective so all patrol actions on the Objective (OBJ) can be discussed and all patrol members know their specific functions and actions on the OBJ. If time is limited the focus should be on the construction of the OBJ terrain model only.

Terrain Model Kit Items (see top picture for items in my kit).
1. Shaving bag to store kit.
2. Laminated index cards for Legend and key control measures (Phase lines, OBJ).
3. Dry erase markers for marking laminate cards.
4. Red yarn, red poker chips to designate enemy positions.
5. White or Blue poker chips to mark friendly element locations.
6. White yarn for marking routes, phase lines and other key graphic control measures..
7. Blue yarn for marking water.
8. Black yarn for roads.
9. 550 cord guts to make grid lines.
10. MRE meal boxes for bunkers and building on OBJ.
11. Construct perimeter wire from a spiral notebook
12. Use MRE card board boxes for additional labeling, and MRE accessory sugar and coffee packets to depict buildings and other features on the OBJ.

Key elements of a terrain model (see example).
1. Model oriented in the direction of travel.
2. North-seeking arrow.
3. Legend - Clearly identify in legend all symbols used on the terrain model.
4. Grid lines and grid coordinates.
5. Objective (OBJ).
6. Exaggerated terrain relief and water obstacles.
7. Friendly patrol locations to include support-by-fire (SBF), security elements (SE), breach and assault element positions.
8. Routes, primary and alternate.
9. Release points (RP, ORP).
10. Danger areas (roads, trails, open areas).
11. Blowup of OBJ area to discuss actions on OBJ in detail.
12. Replicate trees and vegetation using leaves, moss or pine needles.