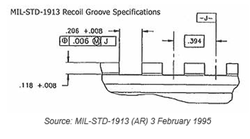 When buying accessories I often wondered what the difference was between Picatinny Rails vs. Weaver Rails. When looking at the rails side by side the two systems look the same. But, the major difference is the width of the recoil grooves in the rail systems. The recoil groove on Picatinny rails is exactly .206" wide and have a center-to-center width of exactly .394" (see attached picture). Military specifications require Picatinny rail measurements to be exact to ensure uniformity for a wide range of different applications. Weaver rail recoil grooves, on the other hand, are .180" and may not be consistent in a center-to-center measurement from one groove to the next. Weaver rail manufacturers are also known to change the center-to-center distance between grooves based on the unique system the Weaver rail is designed to support. Obviously such a various is not conducive for military uniformity as outlined in the Picatinny rail specifications.
Based on the different system manufacturing tolerances, purchasers must assume that Picatinny rail accessories are not compatible with Weaver rails, but Weaver rail accessories are most likely compatible with Picatinny rails. Another example, Weaver rifle scope rings will fit on Picatinny rails, but Picatinny rifle scope rings will not fit on Weaver rails. **Always remember Picatinny won't fit Weaver, but Weaver will fit Picatinny.**

Finally, the term "Picatinny" comes from the place where the system was developed which was at the Picatinny Arsenal located in Northern New Jersey. For more information take a look at the following article at B
rownells that discusses the differences and history in detail.
http://www.brownells.com/.aspx/lid=1...he_Difference_