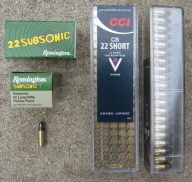 If you like shooting but want to keep the noise signature down use subsonic ammunition. Subsonic rounds are bullets that travel less than the speed of sound
which is 1126 feet per second (FPS) or 343 meters per second. Any bullet rated
less than the speed of sound results in the bullet not making the normal crack-bang noise that occurs when the bullet travels past the 1226 fps speed. The pictured Remington .22 Long Rifle (LR) Subsonic rounds are rated at 1050 fps at muzzle and 951 fps at 100 yards resulting in a much lower sonic signature vs. a high velocity .22LR which breaks the speed of sound. The pictured CCI .22 Short CB Subsonic rounds are even quieter due to their velocity of 701 fps. The use of bolt action rifles further reduce the noise of subsonic ammunition. I recently purchased the pictured Remington .22LR Subsonic ammunition for $3.77 per 50 rounds at Walmart, and purchased the CCI .22 Short for $9.99 per 100 rounds at a local sporting goods store. Subsonic ammunition is also a great way to introduce new shooters to the sport due to the lower noise signature. Also when hunting with subsonic ammunition you do not scare other game in area.