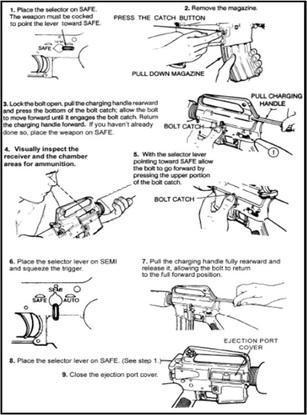 As the number of AR owners increase I felt it essential to post the standard military clearing procedures for the rifle to reinforce the proper steps in the clearing process.
AR Clearing Procedures
1. Place the selector lever on SAFE. The weapon must be cocked to point the lever toward SAFE.
2. Remove the magazine. Press the MAGAZINE CATCH BUTTON and PULL DOWN MAGAZINE.
3. Lock the bolt open. Pull the charging handle rearward and press the bottom of bolt catch; allow the bolt to move forward until it engages bolt catch. Return the charging handle forward ensuring the latch is locked. If you haven't already done so, place the weapon on SAFE.
4. Visually inspect the receiver and chamber areas for ammunition. Use a flashlight if in a lowlight situation.
5. With the selector lever pointing toward SAFE allow the bolt to go forward by pressing the upper portion of the bolt catch.
6. Place the select lever on SEMI and squeeze the trigger.
7. Pull the charging handle fully rearward and release it, allowing the bolt to return to the full forward position.
8. Place the select lever on SAFE.
9. If provided on your upper receiver, close the ejection port cover.