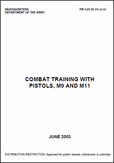 Participating in a recent M9 Range I took away a simple coaching technique that reminded soldiers of the steps they should think about each time they fire their weapon based on the acronym "BRASS" (Breathe, Relax, Aim, Slack, Squeeze). BRASS is am easily remembered weapon control sequence that improves individual marksmanship for both amateur and competitive marksmen. The BRASS narrative below is from the Army's pistol marksmanship Field Manual FM 3-23.35 COMBAT TRAINING WITH PISTOLS, M9 AND M11. This manual is approved for public release; distribution is unlimited so you can easily find it online for free. Conducting BRASS is a valuable dry fire exercise that allows a coach to observe the firers trigger squeeze looking for a flinch or erratic movement of the front sight as the firer squeezes the trigger. If a flinch is noticed the firer should talk through BRASS and repeat the exercise until the flinch is gone. BRASS emphasizes the proper application of trigger squeeze which allows the hammer to fall without the front sight moving. When observing a firer a small bouncing movement of the front sight is acceptable.
1. Breathe - Take a normal breath, let part of it out, and lock the remainder in the lungs by closing the throat.
2. Relax - Relax the body muscles.
3. Aim - Take correct sight alignment and sight picture, and focus the eye at the top of the front sight.
4. Slack - Take up the trigger slack.
5. Squeeze - Squeeze the trigger straight to the rear with steadily increasing pressure without disturbing sight alignment until the hammer falls.