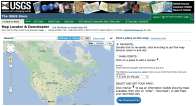 Go to the US Geological Survey's website to download a free topographical map of your area. The site's Map Locator and Downloader is located at the following
link:
http://store.usgs.gov/b2c_usgs/usgs/maplocator/(xcm=r3standardpitrex_prd&layout=6_1_61_48&uiarea=2&c&carea=%24ROOT)/.do
. The attached picture is a screen shot of the Map Locator and Downloader page. Once on the locator page all you need to do is provide the address for the area you would like a map for. The provided maps include contour lines that show the shape and elevation of the terrain for your area of operation. Topographical maps of your area is a must for map reading and terrain identification, greatly increasing the learning process if you are able to read a map and walk the terrain to see the relationship between the map's contour lines and the terrain within your area. The provided maps are also a great resource for setting up land navigation and orienteering courses. In addition to training a detailed topographical map is required for planning tactical operations and command post mission tracking.