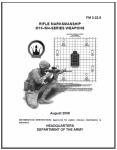 If your AR series weapon does not cycle completely during firing you should instantly conduct the following immediate action drill based on the acronym "SPORTS" (Slap, Pull, Observe, Release, Tap and Squeeze). Immediate action drills are used to quickly apply a possible correction to a stoppage without performing lengthy troubleshooting. Almost all AR stoppages can be corrected using SPORTS so this process should be put to memory. All AR platform owners must become familiar with the Army's Field Manuel FM 3-22.9 Rifle Marksmanship which is the source for the following procedure.
SPORTS Immediate Action
1. Slap gently upward on the magazine to ensure that it is fully seated and that the magazine follower is not jammed. NOTE: When slapping up on the magazine, be careful not to knock a round out of the magazine into the line of the bolt carrier, causing more problems. Slap only hard enough to ensure that the magazine is fully seated. Ensure that the magazine is locked into place by quickly pulling down on the magazine.
2. Pull the charging handle fully to the rear.
3. Observe the ejection of a live round or expended cartridge. NOTE: If the weapon fails to eject a cartridge, perform remedial action.
4. Release the charging handle; do not ride it forward.
5. Tap the forward assist assembly to ensure that the bolt is closed.
6. Squeeze the trigger and try to fire the rifle.
Remedial Action - Remedial action is the continuing effort to determine the cause of a stoppage or malfunction and attempt to clear the stoppage once it has been identified. Conduct the following actions to apply the corrective steps for remedial action.
1. Try to place the weapon on SAFE. NOTE: A bolt override may not allow the weapon to be placed on SAFE.
2. Remove the magazine.
3. Lock the bolt to the rear.
4. Place the weapon on SAFE (if not already done).