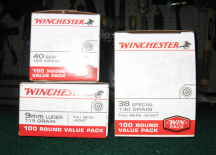 Pictured are the following 100rd ammunition bulk packs I purchased this week at my local Wal-mart. Wal-mart is one of the only vendors that have not raised prices. Any price increase is based on manufacturing raw material input costs. Thank you Wal-mart for continuing to provide ammunition and guns at pre-scare prices. For those that complain about not being able to find ammunition or magazines, you need to at least make an effort to find them. There is plenty of reasonable priced ammunition and magazines available at both local and internet vendors. Continue to shop your local stores for ammunition and buy what you find. I reload so I try to stay away from ammunition with steel or aluminum cases. When you find pistol ammunition for under $.40 a round or rifle ammunition for under $.60 a round buy it!
1. 9mm 100 round bulk pack for $25 at Walmart.
2. .40 S&W 100 round bulk pack for $34 at Walmart.
3. .38 Special 100 round bulk pack for $35 at Walmart.