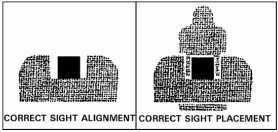 Too often firers ignore correct sign alignment and correct sight placement when engaging threats with their pistols. To correct this basic error, all firers must practice their Aiming prior to going to the range as a key rehearsal to ensure application of this fundamental. FM 3-23.35 Pistol Marksmanship provides the following overview of the basic components of Aiming which are Sight Alignment and Sight Placement. Reference the sight alignment and sight placement diagram to the right as a reference when reviewing this topic.
1. Sight alignment is the centering of the front blade in the rear sight notch. The top of the front sight is level with the top of the rear sight and is in correct alignment with the eye. For correct sight alignment, the firer must center the front sight in the rear sight. He raises or lowers the top of the front sight so it is level with the top of the rear sight. Sight alignment is essential for accuracy because of the short sight radius of the pistol. For example, if a 1/10-inch error is made in aligning the front sight in the rear sight, the firer's bullet will miss the point of aim by about 15 inches at a range of 25 meters. When shooting pistols the bullet's point of impact changes significantly for every addition meter after a range of 25 meters.
2. Sight placement is the positioning of the weapon's sights in relation to the target as seen by the firer when he aims the weapon. A correct sight picture consists of correct sight alignment with the front sight placed center mass of the target. The eye can focus on only one object at a time at different distances. Therefore, the last focus of the eye is always on the front sight. When the front sight is seen clearly, the rear sight and target will appear hazy. The firer can maintain correct sight alignment only through focusing on the front sight. His bullet will hit the target even if the sight picture is partly off center but still remains on the target. Therefore, sight alignment is more important than sight placement. Since it is impossible to hold the weapon completely still, the firer must apply trigger squeeze and maintain correct sight alignment while the weapon is moving in and around the center of the target. This natural movement of the weapon s referred to as wobble area. The firer must strive to control the limits of the wobble area through proper grip, breath control, trigger squeeze, and positioning.
Finally, focusing on the front sight while applying proper trigger squeeze will help the firer resist the urge to jerk the trigger and anticipate the moment the weapon will fire. Mastery of trigger squeeze and sight alignment requires practice. Trainers should use concurrent training stations or have fire ranges to enhance proficiency of marksmanship skills.