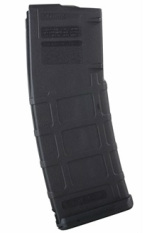 Continue to stock up on hi capacity magazines for all of your weapons. Do not be caught off guard again because of the passage of State anti-gun legislation that impacts your freedom. Midway USA is still selling AR15 30rd PMAGs for only $12.30 per mag see following link,
Magpul PMAG M2 MOE Magazine AR-15 223 Remington 30-Round Black
. These mags are ready to ship, so there is no wait. I ordered 5 mags on Wednesday and received them two days later for some fun weekend shooting. Great job Midway on shipping product fast!!! Midway is one of the only companies that allows buyers to purchase 5 mags per shipment (several weeks ago they allowed 10 mags per shipment so quantities must be getting low). This is a really great deal you don't want to pass up. Not only is the cost low, but you're able to buy a bulk number of mags in one purchase. Buy mags and pass them on to a friends and family! They make great gifts for any occasion. Even if you don't own an AR this is the best investment around.