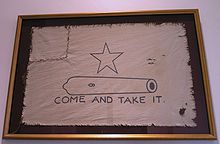 Source: Wikipedia.org
The expression "Come and Take It" was a slogan used at the Battle of Gonzales which occurred on October 2, 1835, and is considered the first military engagement of the Texas Revolution. Pictured is a replica of the Gonzalez Flag that resides at the Texas State Capitol. The following description of events leading up to the Battle of Gonzales and the role the "Come and Take It" slogans plays in today's gun rights movement is provided by Gadsden and Culpeper: Original American Heritage Shop,
" In March 1831, Juan Gomez, a Lieutenant in the Mexican Army, worked alongside Tadeo Ortiz, a consul at Bordeaux, France, and granted a small cannon to the colony of San Antonio. The small bronze cannon was received by the colony and signed for by Randy Tumlinson. It was then transported to Gonzales, Texas and later was the object of Texas pride. At the minor skirmish known as the Battle of Gonzales, a small group of Texans successfully resisted the Mexican forces who had orders to seize their cannon. As a symbol of defiance, the Texans had fashioned a flag containing the phrase along with a black star and an image of the cannon which they had received four years earlier from Mexican officials. In modern times, the "Come and Take It" flag has been modified and used as a symbol of gun-rights advocates. The first-known modified version, from the 1980s, replaces the cannon with an M16A2 assault rifle and was displayed at a Bill of Rights rally in Arizona."
Wikipedia.org provides addition detail of the Battle of Gonzales and the following information on the significance of the event,
"News of the skirmish spread throughout the United States, where it was often referred to as the "Lexington of Texas". The cannon's fate is disputed. It may have been buried and rediscovered in 1936, or it may have been seized by Mexican troops after the Battle of the Alamo."
Show your support of "Gun Rights" and purchase your "Come and Take It" apparel at Gadsden and Culpeper at the following link
www.gadsdenandculpeper.com
.