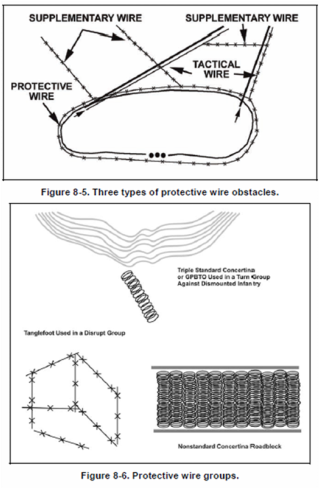 During defensive planning leaders must incorporate a perimeter protective wire obstacle that not only acts as a deterrent against enemy attacks but also slows the enemy's approach in order to place effective direct fire on attackers. Most small unit protective obstacles are a wire obstacle that consists of one of the following or a combination of the following; barbed wire, concertino wire, razor wire or fencing. Due to ease of emplacement, weight and fear factor concertino wire and razor wire are preferred over heavier barbed wire. If a group is unable to emplace a wire obstacle completely around the perimeter, leaders must decide specific locations for obstacle placement along enemy avenues of approach and in a manner that turns the enemy into planned Engagement Areas (EAs) where the enemy can be destroyed with minimal assets. Another leader consideration when placing protective wire obstacles is to ensure they are always covered by direct fire to disrupt the enemy while they are taking a tactical pause to adjust their plan to either reduce or bypass the obstacle. If a wire obstacle is not supported by direct fire, wire obstacles are easily reduced with a basic breach kit consisting of bolt cutters. Obstacles can also be emplaced in a reverse support role to increase the effectiveness of the organization's direct fire weapon systems. Below are general guidelines for protective obstacles as outlined in FM 3-21.8 The Infantry Rifle Platoon and Squad.
1. Protective obstacles are usually located beyond hand grenade distance (40 to 100 meters) from individual fighting positions, and may extend out 300 to 500 meters to tie into tactical obstacles and existing restricted terrain.
2. Leaders should plan protective obstacles in depth and try to maximize the effective range of their weapons (do not place an obstacle outside of your individual's or weapon's ability to engage targets attempting to breach an obstacle).
3. When planning protective obstacles, leaders must consider preparation time, the burden on the logistical system, the individual loads, and the risk of loss of surprise.
The attached picture provides an example of how the following three types of wire obstacles are integrated to reinforce a defensive position. The second picture provides general information about several types of protective wire obstacles. Tanglefoot Wire obstacle construction material such as barbed wire and u-shaped pickets can be bought at all local hardware stores.
The following are the three types of wire obstacles:
1. Protective Wire can be a complex obstacle providing all-round protection of a group perimeter. It might also be a simple wire obstacle on the likely dismounted avenue of approach into a squad ambush position.
2. Tactical Wire is positioned to increase the effectiveness of the company's fires. Usually, it is positioned along the friendly side of the machine gun Final Protective Lines (FPLs).
3. Supplementary Wire Obstacles can break up the line of tactical wire. This helps prevent the enemy from locating friendly weapons (particularly the machine guns) by following the tactical wire.