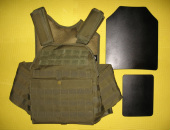 Pictured is a Rothco Plate Carrier and two of the four AR500 1/4 inch LEVEL III Body Armor plates (10x12 Front Plate and 6X8 Side Plate) I recently purchased. The complete AR500 plate set consists of the following plates: 1-Comfort Curve and Radius Cut 10x12 Plate, 1-Flat and Radius Cut 10x12 Plate, and 2-6x8 Comfort Curve Side Plates. These plates can be purchased from C.A.T.I. ARMOR on their Ebay store at the following link,
AR500 Body Armor Complete Set 1 Curved Front, 1 Flat Back, and 6"x8" Side Plates
. The plates are designed to protect the wearer from rifle fire up to 7.62. The plates I received were unfinished so I applied a base coat of RUST-OLEUM truck bed coating I purchased at Wal-Mart. Like all steel armor you'll need to wrap your plates in a kevlar fabric or add additional protective coating for spall containment. Spalling occurs when bullets shatter when impacting steel armor sending pieces of metal along the plate face causing shrapnel injuries to the neck, arms and legs. To prevent such injuries a Kevlar fabric or thick coating of material can be applied to the plates to catch bullet fragments. Steel Small Arms Protective Inserts (SAPI) are significantly cheaper than the ceramic SAPI plates fielded by the military, and are not subject to damage/cracking that results from rough handling.