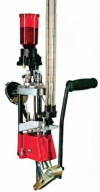 If you are looking to purchase a progressive press I recommend Lee's Pro 1000 Progressive Reloading Kit. For the price and quality this is the best progressive press available. You can view the pictured press at Amazon.com at the following link:
Lee Cast Aluminum Pro 1000 Reloading Kit For 9MM Luger Md: 90640
. For anyone just starting to reload, this press is simple to use and great for beginners. You can purchase the Pro 1000 with pistol dies specific to your requirements. When I received my press the 9mm dies were installed, and was ready out of the box with little adjustment. In today's environment with ammunition availability always changing it makes a lot of sense to be able to reload your spent brass. I'm currently running my press with 124 grain bullets and Alliant Bullseye powder. YouTube offers a number videos on how to use and set up the Pro 1000. Keep stocking up. Be Ready!