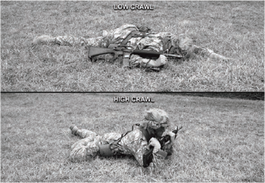 Source: FM 3-21.75
In a tactical environment individuals spend more time moving than fighting. For this reason it is essential all team members understand how to conduct Individual Movement Techniques (IMT) to prevent detection while moving and to limit exposure to enemy observation/direct fire. IMT is an individual task that must be trained on a recurring basis to make certain individuals are physically able to conduct IMT and to ensure their equipment is properly placed to allow for movement. Even the most experienced individuals must practice these techniques regularly, until they become second nature. FM 3-21.75 The Warrior Ethos and Soldier Combat Skills provides the following guidance and techniques for conducting IMT for the Low Crawl, the High Crawl, and the 3-5 Second Rush. Fundamental to all unit movements is the individual's movement skills and the individual movement skills of your peers. The IMT skills discussed below drive mission success. Use the following techniques to avoid being seen or heard:
• Stop, look, listen, and smell (SLLS) before moving. Look for your next position before leaving a position.
• Look for covered and concealed routes on which to move.
• Change direction slightly from time-to-time when moving through tall grass.
• Stop, look, and listen when birds or animals are alarmed (the enemy may be nearby).
• Smell for odors such as petroleum, smoke, and food; they are additional signs of the enemy's presence.
• Cross roads and trails at places that have the most cover and concealment (large culverts, low spots, curves, or bridges).
• Avoid steep slopes and places with loose dirt or stones.
• Avoid cleared, open areas and tops of hills and ridges. Walking at the top of a hill or ridge will skyline you against the sun or moon, enabling the enemy to see you.
In addition to walking, individuals move in one of three other methods known as Individual Movement Techniques (IMT) - Low Crawl, High Crawl, or Rush.
1. Low Crawl - The low crawl gives you the lowest silhouette. Use it to cross places where the cover and/or concealment are very low and enemy fire or observation prevents you from getting up. Keep your body flat against the ground. With your firing hand, grasp your weapon sling at the upper sling swivel. Let the front hand guard rest on your forearm (keeping the muzzle off the ground), and let the weapon butt drag on the ground. To move, push your arms forward and pull your firing side leg forward. Then pull with your arms and push with your leg. Continue this throughout the move.
2. High Crawl - The high crawl lets you move faster than the low crawl and still gives you a low silhouette. Use this crawl when there is good cover and concealment but enemy fire prevents you from getting up. Keep your body off the ground and resting on your forearms and lower legs. Cradle your weapon in your arms and keep its muzzle off the ground. Keep your knees well behind your buttocks so your body will stay low. To move, alternately advance your right elbow and left knee, then your left elbow and right knee (see attached picture).
3. 3-5 Second Rush - The rush is the fastest way to move from one position to another. Each rush should last from 3 to 5 seconds. Rushes are kept short to prevent enemy machine gunners or riflemen from tracking you. However, do not stop and hit the ground in the open just, because 5 seconds have passed. Always try to hit the ground behind some cover. Before moving, pick out your next covered and concealed position and the best route to it. Make your move from the prone position as follows:
• Slowly raise your head and pick your next position and the route to it.
• Slowly lower your head.
• Draw your arms into your body (keeping your elbows in).
• Pull your right leg forward.
• Raise your body by straightening your arms.
• Get up quickly.
• Rush to the next position.
When you are ready to stop moving:
• Plant both of your feet.
• Drop to your knees (at the same time slide a hand to the butt of your rifle).
• Fall forward, breaking the fall with the butt of the rifle.
• Go to a prone firing position.
If you have been firing from one position for some time, the enemy may have spotted you and may be waiting for you to come up from behind cover. So, before rushing forward, roll or crawl a short distance from your position. By coming up from another spot, you may fool an enemy who is aiming at one spot and waiting for you to rise. When the route to your next position is through an open area, use the 3 to 5 second rush. When necessary, hit the ground, roll right or left, and then rush again.