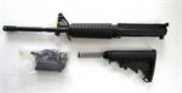 Source: JSE Surplus
For those purchasers on the fence, below is a cost comparison on the components required to build a quality AR15 for under $700. The examples below reflect current AR15 market prices. For those building an AR15, it takes little effort to assemble the Lower Parts Kit (LPK) into a Lower Receiver. Conduct a basic web search on how to assemble an AR15 lower receiver and you are on your way. You can also purchase an AR15 Build DVD for under $15, that also details how to build an upper assemble. Based on today's low prices there is no reason for everyone not to own an AR15. In addition to providing a great return on investment, AR15's are also the cornerstone to any sound savings portfolio to counter inflation and market instability. I believe these low prices are not going to last long. Buy your AR today.
Do not wait!!
Option #1: $699 - Quality AR15 Build (recommended)
1. $120 - Stripped AR15 Lower Receiver. See following link to JSE Surplus,
DPMS Stripped Lower Receiver
.
2. $30 - FFL Transfer Fee (only required if lower receiver is purchased online).
3. $490 - Upper Receiver Complete with Lower Parts Kit (LPK) (see attached picture, no FFL required). See following link to JSE Surplus,
Custom 16" M4 1x7 Nitride Rifle Kit
. ***See additional comments below if product is not available.
4. $30 - Rear backup site.
5. $12 - MAGPUL 30rd magazine. Available at most Midway USA and most other online vendors.
6. $17 - Misc Shipping Fees.
7. Add Sales Tax (if applicable).
***
Replacement option for line #3
. If the complete upper assembly and LPK package are not available, you can purchase a complete upper for $420 and an LPK for $70 (JSE Surplus currently is offering a number of complete Upper Assemblies).
Option #2: $714 - Purchase DPMS Sporticle and add Back-up Sights.
1. $615 - Current DPMS Sporticle at Walmart.
2. $49 - Local Sales Tax.
3. $50 - Front and Rear Backup Sites for optics ready AR15 (when purchased online).
4. Add Sales Tax (if applicable).