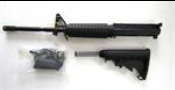 Source: JSE Surplus
For anyone looking to purchase a quality AR15 parts kit (less lower receiver) for under $500, JSE Surplus is selling the following kits,
Custom 16" M4 1x9 Nitride Rifle Kit - Complete less stripped receiver
(see attached picture) and
Unassembled Wilson Arms 16" M4 1x7 rifle kit - Less lower receiver.
Both these kits are a great deal. Many vendors purchase these kits and sell them for $200-$300 over what JSE is selling them for. All you need to do to complete your AR15 is pick a lower receiver for $120 and a magazine at your local gun store. Find a friend that can help you assemble the rifle for free or watch a Youtube video on how to complete the build.
Do not wait!!
Continue to buy all the ARs, magazines and components you can afford at these low prices.