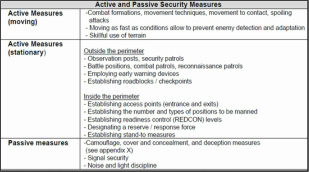 Source: FM 3-21.8
FM 3-21.8 The Infantry Rifle Platoon and Squad field manual provides the following guidelines for "Local Security" and the active and passive measures a unit can take to prevent detection and to prevent surprise by the enemy. Local security prevents a unit from being surprised and is an important part of maintaining the initiative. Local security includes any local measure taken by units against enemy actions. It involves avoiding detection by the enemy or deceiving the enemy about friendly positions and intentions. It also includes finding any enemy forces in the immediate vicinity and knowing as much about their positions and intentions as possible. The requirement for maintaining local security is an inherent part of all operations. The following is a sample of active and passive local security measures units must take as part of any operation.
Active and Passive Security Measures:
1. Active Measures (Moving).
• Combat formations, movement techniques, movement to contact, spoiling attacks.
• Moving as fast as conditions allow to prevent enemy detection and adaptation.
• Skillful use of terrain.
2. Outside the Perimeter - Active Measures (Stationary).
• Observation posts, security patrols.
• Battle positions, combat patrols, reconnaissance patrols.
• Employing early warning devices.
• Establishing roadblocks / checkpoints.
3. Inside the Perimeter - Active Measures (Stationary).
• Establishing access points (entrance and exits).
• Establishing the number and types of positions to be manned.
• Establishing readiness control (REDCON) levels.
• Designating a reserve / response force.
• Establishing stand-to measures.
4. Passive Measures.
• Camouflage, cover and concealment, and deception measures.
• Signal security.
• Noise and light discipline.
"A unit must be protected at all times from surprise. Exterior guards are utilized to protect a unit from surprise and to give the unit time to prepare to counter any threat. Guards must be alert for surprise by ground, airborne, and air attacks; to provide early warning of chemical, biological, radiological, and nuclear (CBRN) attack or contamination; and to protect supplies and supply installations. If the unit is moving, security may vary from observation to the use of security patrols. During short halts, guards, small security detachments, and forward patrols are used to provide all-round security. For stationary positions in combat or hostile areas, unit commanders use exterior guards to establish a surveillance system to operate day and night throughout the unit area. The commander may use guards, listening posts, observation posts, patrols, aerial observers, and any other available means. The guards may have any number
of special devices to assist them in performing their duties. These may include CBRN detection devices, electronic detection devices, infrared or other night vision devices, trip flares and antipersonnel mines, noisemaking devices, or any other device to provide early warning to the guard and unit (Local Security—FM 22-6, Guard Duty. 17 September 1971)."