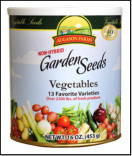 The Augason Farms non-hybrid bulk seed package is a great value for those looking for garden seeds for planting or for storage. The container can be purchased at Walmart.com at the following link,
Augason Farms Emergency Food Non-Hybrid Vegetables Garden Seeds,16 oz
.
The package contains over 8,000 seeds and packaged for a 5 year shelf life. This product contains 13 different types of seeds to include; green beans, carrots, corn, cucumbers, cantaloupes, onions, peas, bell peppers, romaine lettuce, spinach, squash, tomatoes and zucchini. This product lives up to Augason Farms great line of products.