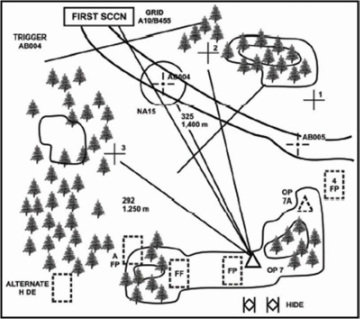 Source: FM 3-21.8
FM 3-21.8 The Infantry Rifle Platoon and Squad field manual provides the following guidelines for "Drawing a Observation Point (OP) Sector Sketch." Once the leader has established the OP he prepares a sector sketch. This sketch is similar to a fighting position sketch but with some important differences. The attached picture shows an example OP sector sketch.
At a minimum, the sketch should include:
• A rough sketch of key and significant terrain.
• The location of the OP.
• The location of the hide position.
• The location of vehicle fighting and observation positions.
• Alternate positions (hide, fighting, observation).
• Routes to the OP and fighting positions.
• Sectors of observation.
• Direct and indirect fire control measures.