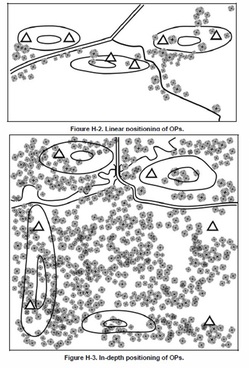 Source: FM 3-21.8
FM 3-21.8 The Infantry Rifle Platoon and Squad field manual provides the following guidelines for the placement and selection of an Observation Point (OP). The OP, the primary means of maintaining surveillance of an assigned avenue or NAI, is a position from where units observe the enemy and direct and adjust indirect fires against him. From the OP, Infantry platoons send SALUTE reports to their controlling headquarters when observing enemy activity.
Types of OPs - OPs can be executed either mounted or dismounted. As they are complementary, if possible they should be used in combination.
• The main advantage of a dismounted OP is that it provides maximum stealth hopefully preventing the enemy from detecting it. The two main disadvantages are that it has limited flexibility, taking time to displace and limited firepower to protect itself if detected.
• The main advantages of a mounted OP are the flexibility that comes from vehicle mobility as well as the additional
combat power resident in the vehicle's optics, communications, weapons, and protection. The main disadvantage is that vehicles are inherently easier to detect and can prevent the unit from accomplishing its mission.
The following are key consideration when employing OPs.
1. Positioning of OPs - Based on the specific METT-TC, leaders may array OPs linearly or in depth (see attached diagrams). Depth is the preferred technique for maintaining contact with a moving enemy along a particular avenue of approach. Linear placement is optimal when there is no clear avenue of approach or the enemy is not moving.
2. Selecting and Securing the OPs - Based on guidance from the controlling headquarters, the leader selects the general location for the unit's OPs after conducting METT-TC analysis. From his analysis, he determines how many OPs he must establish. He also decides where they must be positioned to allow long-range observation along the avenues of approach assigned and to provide depth through the sector. Leaders assigned a specific OP select its exact position when they get on the actual ground. See attached figures for examples of OP selection in urban terrain.
3. OPs should have the following characteristics:
• Covered and concealed routes to and from the OP. Soldiers must be able to enter and leave their OP without being seen by the enemy.
• Unobstructed observation of the assigned area or sector. Ideally, the fields of observation of adjacent OPs overlap to ensure full coverage of the sector.
• Effective cover and concealment. Leaders select positions with cover and concealment to reduce their vulnerability on the battlefield. Leaders may need to pass up a position with favorable observation capability but with no cover and concealment to select a position that affords better survivability. This position should not attract any attention or skyline the observer.
4. OP Security - Small teams are extremely vulnerable in an OP. Their best self-defense is not to be seen, heard, or otherwise detected by the enemy. They employ active and passive local security measures.
5. Occupying the OP - The leader selects an appropriate technique to move to the observation post or screen line based on his analysis of METT-TC. (Infiltration, zone reconnaissance, movement to contact [mounted, dismounted, or air insertion], using traveling, traveling overwatch, or bounding overwatch.)
6. Manning and Equipment at the OP - At least two Soldiers are required to operate an OP. One man establishing security, recording information, and reporting to higher while the other observes. These men switch jobs every 20-30 minutes because the efficiency of the observer decreases with time. Three or more Soldiers are required to increase security. For extended periods of time (12 hours or more), the unit occupies long-duration OPs by squad-sized units. Essential equipment for the OP includes the following:
• Map of the area.
• Compass / GPS.
• Communications equipment.
• Observation devices (binoculars, observation telescope, thermal sights, and/or night vision devices).
• SOI extract.
• Report formats contained in the SOP.
• Weapons.
• Protective obstacles and early warning devices.
• Camouflage, cover and concealment, and deception equipment as required.