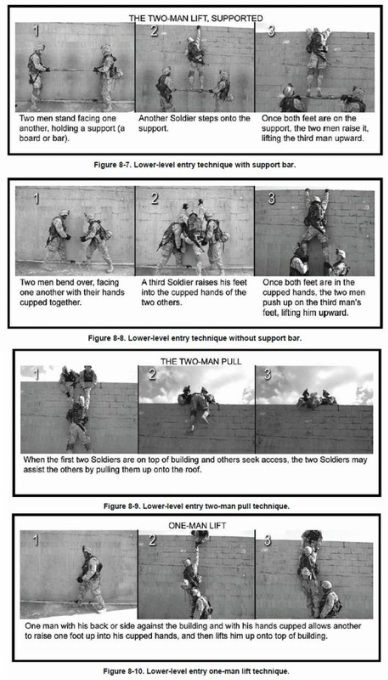 Source: FM 3-21.75
FM 3-21.75 The Warrior Ethos and Soldier Combat Skills field manual provides the following narrative on how to enter a building. When entering buildings, exposure time must be minimized. Before moving toward the building, you must select the entry point. When moving to the entry point use smoke to conceal your advance. You must avoid using windows and doors except as a last resort. Consider the use of demolitions, shoulder-launched munitions (SLMs), close combat missiles (CCMs), tank rounds, and other means to make new entrances. If the situation permits, you should precede your entry with a grenade, enter immediately after the grenade explodes, and be covered by one of your buddies. Entry should be made at the highest level possible.
1. ENTER UPPER LEVEL - Entering a building from any level other than the ground floor is difficult. However, clearing a building from the top down is best, because assaulting and defending are easier from upper floors. Gravity and the building's floor plan help when Soldiers throw hand grenades and move between floors. An enemy forced to the top of a building may be cornered and fight desperately, or escape over the roof. An enemy who is forced down to ground level may withdraw from the building, exposing himself to friendly fires from the outside. Soldiers can use several means, including ladders, drainpipes, vines, helicopters, or the roofs and windows of adjacent buildings, to reach the top floor or roof of a building. One Soldier can climb onto the shoulders of another and reach high enough to pull himself up. Ladders are the fastest way to reach upper levels. If portable ladders are unavailable, Soldiers can construct them from materials available through supply channels. They can also build ladders using resources available in the urban area. For example, they can use the lumber from inside the walls of buildings. Although ladders do not permit access to the top of some buildings, they do offer security and safety through speed. Soldiers can use ladders to conduct an exterior assault of an upper level, provided exposure to enemy fire can be minimized.
2. SCALE WALLS - When you must scale a wall during exposure to enemy fire, use all available concealment. Use smoke and other diversions to improve your chance of success. When using smoke for concealment, plan for wind direction. Use suppressive fire, shouting, and distractions from other positions to divert the enemy's attention. You are vulnerable to enemy fire when scaling an outside wall. Ideally, move from building to building and climb buildings only under cover of friendly fire. Properly positioned friendly weapons can suppress and eliminate enemy fire. If you must scale a wall with a rope, avoid silhouetting yourself in windows of uncleared rooms, and avoid exposing yourself to enemy fires from lower windows. Climb with your weapon slung over your firing shoulder so you can bring it quickly to a firing position. If the rules of engagement (ROE, which are the rules governing the use of force) permit, engage the objective window and any lower level windows in your path with grenades (hand or launcher) before you ascend. Enter the objective window with a low silhouette. You can enter head first, but the best way is to hook a leg over the window sill and enter sideways, straddling the ledge.
3. ENTER AT LOWER LEVELS - Buildings are best cleared from the top down. However, you might not be able to enter a building from the top. Entry at the bottom or lower level is common, and might be the only way. When entering at lower levels, avoid entering through windows and doors, since either is easily booby trapped, and both are usually covered by enemy fire (see attached Figure 8-7 Figure 8-8, Figure 8-9 and Figure 8-10). Use these techniques when you can enter the building without receiving effective enemy fire. When entering at lower levels, use demolitions, artillery, tank fire, SLMs, CCMs, ramming of an armored vehicle into a wall, or similar means to create a new entrance and avoid booby traps. This is the best technique, ROE permitting. Once you use these means, enter quickly to take advantage of the effects of the blast and concussion. Door breaching is the best way to enter at the lower level. Before entering, you may throw a hand grenade into the new entrance to reinforce the effects of the original blast. Note: Armored vehicles can be positioned next to a building, so Soldiers can use them as a platform for entering a room or gaining access to a roof. Blow or cut breach holes through walls to allow you to enter a building. Such entrances are safer than doors, because doors are easily booby trapped, and should be avoided, unless you conduct an explosive breach on the door.
• Throw a grenade through the breach before entering. Use available cover, such as the lower corner of the building, for protection from fragments.
• Use stun and concussion grenades when engaging through thin walls. When a door is your only way into a building, beware of booby traps and fire from enemy soldiers inside the room. You can breach (force open) a locked door using one of the following four breaching methods: Mechanical, Ballistic, Explosive, or Thermal.
If no other breach method is available, you may kick the door open. This is the worst method, since it is difficult and tiring. Also, it rarely works the first time, giving any enemy inside ample time to shoot you through the door.
• When opening an unlocked door by hand, make sure you and the rest of the assault team avoid exposing themselves to enemy fire through the door. To reduce exposure, stay close to one side of the doorway.
• ROE permitting, once you get the door open, toss in a hand grenade. Once it explodes, enter and clear the room.