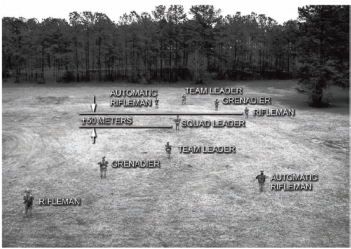 Source: FM 3-21.75
FM 3-21.75 The Warrior Ethos and Soldier Combat Skills field manual provides the following key principles when moving as a team. See attached picture for detail on a squad column, team wedge formation. Movement formations are used for Control, Security, and Flexibility. These formations are the actual arrangements for you and your fellow Soldiers in relation to each other.
1. Control - Every squad and Soldier has a standard position. You must be able to see your fire team leader. Fire team leaders must be able to see their squad leaders. Leaders control their units using arm-and-hand signals.
2. Security - Formations also provide 360-degree security and allow the weight of their firepower to the flanks or front in anticipation of enemy contact.
3. Flexibility - Formations do not demand parade ground precision. Your leaders must retain the flexibility needed to vary their formations to the situation. The use of formations allows you to execute battle drills more quickly and gives the assurance that your leaders and buddy team members are in their expected positions and performing the right tasks. You will usually move as a member of a squad/team. Small teams, such as Infantry fire teams, normally move in a wedge formation. Each Soldier in the team has a set position in the wedge, determined by the type of weapon he carries. That position, however, may be changed by the team leader to meet the situation. The normal distance between Soldiers is 10 meters. When enemy contact is possible, the distance between teams should be about 50 meters. In very open terrain such as the desert, the interval may increase. The distance between individuals and teams is determined by how much command and control the squad leader can still exercise over his teams and the team members (see attached diagram). You may have to make a temporary changes in the wedge formation when moving through close terrain. The Soldiers in the sides of the wedge close into a single file when moving in thick brush or through a narrow pass. After passing through such an area, they should spread out, forming the wedge again. You should not wait for orders to change the formation or the interval. You should change automatically and stay in visual contact with the other team members and the team leader. The team leader leads by setting the example. His standing order is, FOLLOW ME AND DO AS I DO. When he moves to the left, you should move to the left. When he gets down, you should get down. When visibility is limited, control during movement may become difficult. To aid control, for example, the helmet camouflage band has two, 1-inch horizontal strips of luminous tape sewn on it. Unit SOPs normally address the configuration of the luminous strips.