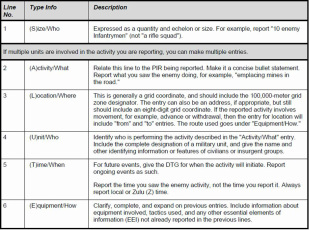 Source: FM 3-21.75
Everyone should be familiar with the SALUTE (Size, Activity, Location, Unit, Time, Equipment) report in order to communicate key information in a standardized format. The SALUTE reporting format should be trained and must be included in all unit SOPs. FM 3-21.75 The Warrior Ethos and Soldier Combat Skills field manual provides the following information on the SALUTE format. Information contained in the SALUTE report helps leaders analyze a broad range of information and disseminate it back to your level and higher. Individuals must report all information about the enemy to their leaders quickly, accurately, and completely. Such reports should answer the questions who, what, where and when. Use the SALUTE format when reporting. Make notes and draw sketches to help you remember details. See attached table for how to use the SALUTE format.
The SALUTE Report consists of the following Line Items, Type Information and Description:
1. (S)ize/Who - Expressed as a quantity and echelon or size. For example, report "10 enemy Infantrymen" (not "a rifle squad"). If multiple units are involved in the activity you are reporting, you can make multiple entries.
2. (A)ctivity/What - Relate this line to the PIR being reported. Make it a concise bullet statement. Report what you saw the enemy doing, for example, "emplacing mines in the road."
3. (L)ocation/Where - This is generally a grid coordinate, and should include the 100,000-meter grid zone designator. The entry can also be an address, if appropriate, but still should include an eight-digit grid coordinate. If the reported activity involves movement, for example, advance or withdrawal, then the entry for location will include "from" and "to" entries. The route used goes under "Equipment/How."
4. (U)nit/Who - Identify who is performing the activity described in the "Activity/What" entry. Include the complete designation of a military unit, and give the name and other identifying information or features of civilians or insurgent groups.
5. (T)ime/When - For future events, give the DTG for when the activity will initiate. Report ongoing events as such. Report the time you saw the enemy activity, not the time you report it. Always report local or Zulu (Z) time.
6. (E)quipment/How - Clarify, complete, and expand on previous entries. Include information about equipment involved, tactics used, and any other essential elements of information (EEI) not already reported in the previous lines.