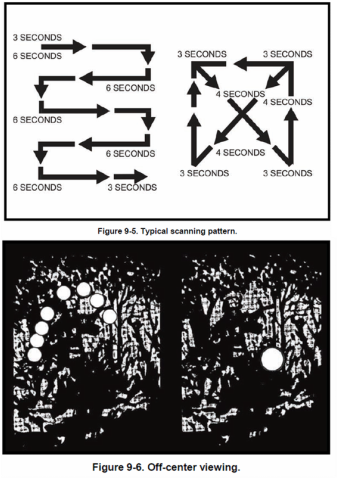 Source: FM 3-21.75
FM 3-21.75 The Warrior Ethos and Soldier Combat Skills (January 2008) field manual provides the following narrative for conducting "Limited Visibility Observation Techniques." Although operating at night has definite advantages, it is also difficult. Your eyes do not work as well as during the day, yet they are crucial to your performance. You need to be aware of constraints your eyes place upon you at night, because 80 percent of your sensory input comes through them. Your ability to see crisp and clear images is significantly reduced.
1. Dark Adaptation - Dark adaptation is the process by which the human body increases the eye's sensitivity to low levels of light. Adaptation to darkness occurs at varying degrees and rates. During the first 30 minutes in the dark, eye sensitivity increases about 10,000 times. Dark adaptation is affected by exposure to bright light such as matches, flashlights, flares, or vehicle headlights. Full recovery from these exposures can take up to 45 minutes. Your color perception decreases at night. You may be able to distinguish light and dark colors depending on the intensity of reflected light. At night, bright warm colors such as reds and oranges are hard to see and will appear dark. In fact, reds are nearly invisible at night. Unless a dark color is bordered by two lighter colors, it is invisible. On the other hand, greens and blues will appear brighter, although you may not be able to determine their color. Since visual sharpness at night is one-seventh of what it is during the day, you can see only large, bulky objects, so you must recognize objects by their general shape or outline. Knowing the design of structures common in the AO will help you determine shape or silhouette. Darkness also reduces depth perception.
a. Normal Blind Spots - The normal blind spot is always present, day and night. It is caused by the lack of light receptors where the optic nerve inserts into the back of the eye. The normal blind spot occurs when you use just one eye. When you close the other eye, objects about 12 to 15 degrees away from where you are looking will disappear. When you uncover your eye, the objects will reappear.
b. Night Blind Spots - When you stare at an object at night, under starlight or lower levels of illumination, it can disappear or fade away. This is a result of the night blind spot. It affects both eyes at the same time and occurs when using the central vision of both eyes. Consequently, larger and larger objects are missed as the distances increase. In
order to avoid the night blind spots, look to all sides of objects you are trying to find or follow. Do not stare. This is the only way to maximize your night vision.
2. Night Observation Techniques - The following paragraphs detail night observation techniques:
a. Dark Adaptation Technique - First, let your eyes become adjusted to the darkness. Do so by staying either in a dark area for about 30 minutes, or in a red-light area for about 20 minutes followed by about 10 minutes in a dark area. The red-light method may save time by allowing you to get orders, check equipment, or do some other job before moving into darkness.
b. Night Vision Scans - Dark adaptation is only the first step toward making the greatest use of night vision. Scanning enables you to overcome many of the physiological limitations of your eyes (Figure 9-5). It can also reduce confusing visual illusions or your eyes playing tricks on you. This technique involves looking from right to left or left to right using a slow, regular scanning movement. At night, it is essential to avoid looking directly at a faintly visible object when trying to confirm its presence.
c. Off-Center Vision - The technique of viewing an object using central vision is ineffective at night. Again, this is due to the night blind spot that exists during low illumination (Figure 9-6). You must learn to use off-center vision. This technique requires viewing an object by looking 10 degrees above, below, or to either side of it rather than directly at it. Additionally, diamond viewing is very similar in that you move your eyes just slightly, a few degrees, in a diamond pattern around the object you wish to see. However, the image of an object bleaches out and becomes a solid tone when viewed longer than 2 or 3 seconds. You do not have to move your head to use your peripheral vision. By shifting your eyes from one off-center point to another, you can continue to pick-up the object in your peripheral field of vision.