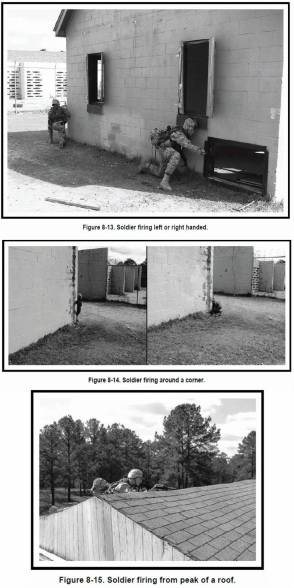 Source: FM 3-21.75
FM 3-21.75 The Warrior Ethos and Soldier Combat Skills (January 2008) field manual provides the following narrative on "Fighting from Hasty Fighting Positions." A hasty fighting position is normally occupied in the attack or early stages of defense. It is a position from which you can place fire upon the enemy while using available cover for protection from return fire. You may occupy it voluntarily or be forced to occupy it due to enemy fire. In either case, the position lacks preparation before occupation. Some of the more common hasty fighting positions in an urban area are corners of buildings, behind walls, windows, unprepared loopholes, and the peak of a roof.
Common Hasty Fighting Positions:
1. Corners of Buildings - You must be able to fire your weapon (both right and left-handed) to be effective around corners.
• A common error made in firing around corners is firing from the wrong shoulder. This exposes more of your body to return fire than necessary. By firing from the proper shoulder, you can reduce exposure to enemy fire (Figure 8-13).
• Another common mistake when firing around corners is firing from the standing position. If the Soldier exposes himself at the height the enemy expects, then he risks exposing the entire length of his body as a target for the enemy (Figure 8-14).
2. Walls - When firing from behind walls, you must fire around cover and not over it.
3. Windows - In an urban area, windows provide convenient firing ports. Avoid firing from the standing position, which would expose most of your body to return fire from the enemy, and which could silhouette you against a light-colored interior background. This is an obvious sign of your position, especially at night when the muzzle flash can be easily observed. To fire from a window properly, remain well back in the room to hide the flash, and kneel to limit exposure and avoid silhouetting yourself.
4. Loopholes - You may fire through a hole created in the wall and avoid windows. You must stay well back from the loophole so the muzzle of the weapon does not protrude beyond the wall, and the muzzle flash is concealed.
5. Roof - The peak of a roof provides a vantage point that increases field of vision and the ranges at which you can engage targets (Figure 8-15). A chimney, smokestack, or any other object protruding from the roof of a building should be used to reduce the size of the target exposed.
6. No Position Available - When subjected to enemy fire and none of the positions mentioned above are available, you must try to expose as little of yourself as possible. You can reduce your exposure to the enemy by lying in the prone position as close to a building as possible, on the same side of the open area as the enemy. In order to engage you, the enemy must then lean out the window and expose himself to return fire.
7. No Cover Available - When no cover is available, you can reduce your exposure by firing from the prone position, by firing from shadows, and by presenting no silhouette against buildings.