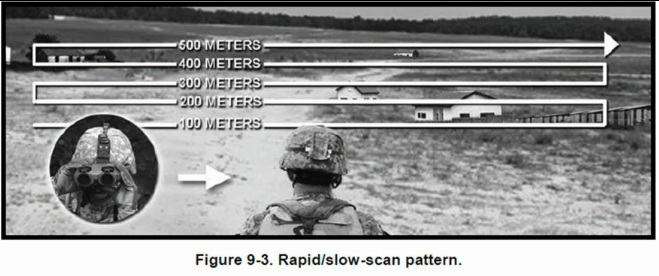 Source: FM 3-21.75
FM 3-21.75 The Warrior Ethos and Soldier Combat Skills (January 2008) field manual provides the following narrative for conducting "Day Observation Techniques." During all types of operations, you will be looking for the enemy. However, there will be times when you will be posted in an OP to watch for enemy activity. An OP is a position from which you watch an assigned sector of observation and report all activity seen or heard in your sector. In daylight, use the visual search technique to search terrain. You must visually locate and distinguish enemy activity from the surrounding terrain features by using the following scanning techniques:
1. Rapid Scan - This is used to detect obvious signs of enemy activity. It is usually the first method you will use (Figure 9-3). To conduct a rapid scan--
• Search a strip of terrain about 100 meters deep, from left-to-right, pausing at short intervals.
• Search another 100-meter strip farther out, from right-to-left, overlapping the first strip scanned, pausing at short intervals.
• Continue this method until the entire sector of fire has been searched.
2. Slow Scan - The slow scan search technique uses the same process as the rapid scan but much more deliberately, which means a slower, side-to-side movement and more frequent pauses (Figure 9-5).

3. Detailed Search - If you find no targets using either the rapid or slow scan techniques, make a careful, detailed search of the target area using M22 binoculars. The detailed search is like the slow scan, but searching smaller areas with frequent pauses and almost incremental movement. The detailed search, even more than the rapid or slow scan, depends on breaking a larger sector into smaller sectors to ensure everything is covered in detail and no possible enemy positions are overlooked (Figure 9-4). You must pay attention to the following:
• Likely enemy positions and suspected vehicle/dismounted avenues of approach.
• Target signatures, such as road junctions, hills, and lone buildings, located near prominent terrain features.
• Areas with cover and concealment, such as tree lines and draws.