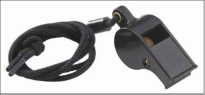 A primary or alternate signaling system used during tactical operations is a simple whistle blast. If surprise is no longer an element of the mission and another signaling system is unavailable (radio, visual or pyrotechnics), a whistle blast is an excellent way to communicate actions to other elements within the squad. During night or day operations the use of a whistle is idea to signal to support elements to shift or lift fire, to initiate movement of an assault element or to initiate actions on the objective. BrigadeQM is selling the pictured whistle at the following link,
GI Cork Ball Plastic Whistle
. A signal whistle should be attached to all of your tactical vests and chest rigs for easy access.