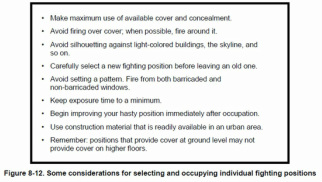 Source: FM 3-21.75
FM 3-21.75 The Warrior Ethos and Soldier Combat Skills (January 2008) field manual provides the following narrative on "Urban Fighting Position Considerations." How do you find and use a fighting position properly? You have to know this: whether you are attacking or defending, your success depends on your ability to place accurate fire on the enemy--with the least exposure to return fire (Figure 8-12).
Fighting Position Considerations:
• Make maximum use of available cover and concealment.
• Avoid firing over cover; when possible, fire around it.
• Avoid silhouetting against light-colored buildings, the skyline, and so on.
• Carefully select a new fighting position before leaving an old one.
• Avoid setting a pattern. Fire from both barricaded and non-barricaded windows.
• Keep exposure time to a minimum.
• Begin improving your hasty position immediately after occupation.
• Use construction material that is readily available in an urban area.
• Remember: positions that provide cover at ground level may not provide cover on higher floors.