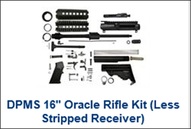 Source: JSE Surplus
For anyone looking to purchase a quality AR15 parts kit (less lower receiver) for under $470, JSE Surplus has is stock 5 of the following kits,
DPMS 16" Oracle Rifle Kit (Less Stripped Receiver)
for $470. All you need to do to complete your AR15 is pickup a lower receiver for $120, a magazine for $13, and front/rear sites at your local gun store, and assemble the components. These are the same kits resold by other vendors for a markup of $200-$300 over what JSE Surplus is selling them for. Find a friend that can help you assemble the rifle, or watch a Youtube video for free on how to complete the build.
Do not wait!!
Continue to buy extra magazines and components at these low prices. This is a sound investment. It is only a matter time before the politicians try again to limit our access to firearms!