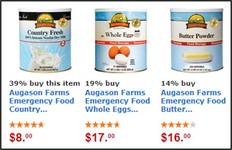 Source: Walmart.com, 21-Oct-13
Purchase Augason Farms Instant Nonfat Dry Milk on sale for $8.00 per can, as an excellent long-term storage solution for milk. See the following Walmart.com link for this product,
Augason Farms Emergency Food Country Fresh 100% Instant Nonfat Dry Milk, 29 oz
. The milk products are great to have on hand especially if you have young kids and the milk is good with cereal when camping. Also while you're at Walmart.com pick up a can of whole eggs and butter for cooking. This is the first time I've seen these items on sale.