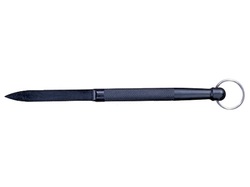 Purchase Cold Steel's Delta Dart with triangular spear point for a light weapon with superior penetration capability. The lightweight plastic design makes this self defense weapon easy to carry for any situation. Purchase this item at MidwayUSA for $3.99 at the following link,
Cold Steel Delta Dart Fixed Blade Tactical Knife 3-3/8" Spear Point Zytel Blade Zytel Handle Black
. Attached is the product description from Midway's website, "Its comfortable handle is knurled for a positive grip and the butt is smooth and rounded, so it's perfect for both thumb and palm reinforced positions. The Delta Dart is made from Zytel, which is this super tough material that, when combined with the Dart's sharp point and triangular cross section, accounts for its phenomenal piercing power." While you're at Midway purchase the sheath that is sold separately at the following link,
Cold Steel Delta Dart Neck Sheath Concealex Polymer Black.
At this price you should include one of these in all of your bugout bags.