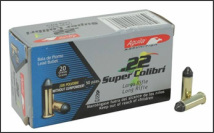 Source: MidwayUSA
If you're looking for a subsonic ammunition to keep others from hearing you shoot your .22 rifle or pistol, MidwayUSA has available Aguila's .22 Super Colibri at the following link,
Aguila Super Colibri Ammunition 22 Long Rifle 20 Grain Lead Solid Point.
For $33 a brick this ammunition is a great resource to have on hand when shooting small game in neighborhoods where alerting neighbors is not in your interest. Due to the ammunition's low muzzle velocity, subsonic, it works best in bolt action rifles. For those, where 22 long rifle is tough to get this is a great alternative.