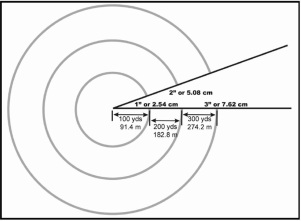 Source: FM 3-22.9 - Minute of angle.
FM 3-22.9 Rifle Marksmanship M16-/M4 - Series Weapons provides the following Minute of Angle (MOA) definition to provide detail behind bullet dispersion when engaging targets at different ranges. Instructors/trainers must have a working knowledge of the effects of bullet dispersion and accuracy at various ranges. A Minutes of Angle (MOA) is the standard unit of measurement used in adjusting a weapon's sights and other ballistic-related measurements. It is also used to indicate the accuracy of a weapon. A MOA angle that would cover 1 inch at a distance of 100 yards, 2 inches at 200 yards, and so on. Each click of sight adjustment on the M16A1 rifle with standard sights is equal to one minute of angle. M16A2/A4 and M4 sights are also calibrated in MOAs.
• A circle is divided into 360 degrees. Each degree is further divided into 60 minutes. "Each minute is an MOA (1/60 of a degree)."
• An MOA is an angle beginning at the muzzle that covers 2.54 centimeters at a distance of 91.4 meters (see figure to the right). Often, these measurements are expressed as yards; therefore, 1 MOA is 1 inch at 100 yards, 2 inches at 200 yards, and so on. To further simplify the calculation, meters can be substituted for yards.
• The difference between yards and meters is minimal; therefore, they are used interchangeably when speaking in MOAs.

Increase in Shot Group - Just as the distance covered by an MOA increases each time the range increases, a shot group can be expected to do the same. If there are 2.54 centimeters between bullets on a 25-meter target, there will be an additional 2.54 centimeters of dispersion for each additional 25 meters of range. A 2.54-centimeter shot group at 25 meters (about 3.5 MOA) is equal to a 25.4-centimeter shot group at 250 meters (see example below).