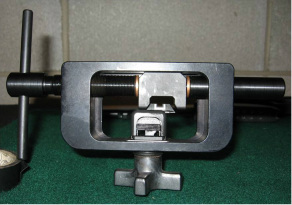 Consider purchasing MGW's Rear Sight Tool for installing night sights on your pistols. I purchased the pictured tool at Midway USA using the following link,
Maryland Gun Works Rear Sight Tool Glock
. The provided picture displays my MGW rear sight tool being used to remove my Glock 17's stock rear sight, in order to install a Trijicon sight set. This tool makes removing, installing, and adjusting Glock rear sights simple. MGW sells similar tools for rear sight replacement for all of the major manufacturers. You can also purchase MGW's universal tool. This tool does not mar your slide like some other brands. Watch the many Youtube videos showing the use of this precision tool. Someone within your circle of friends should own a sight replacement tool to provide not only convenience, but also significant cost savings when you can do the work yourself.