The following graph reflects the Percentage of U.S. households with one or more guns (Source: Gunpolicy.org).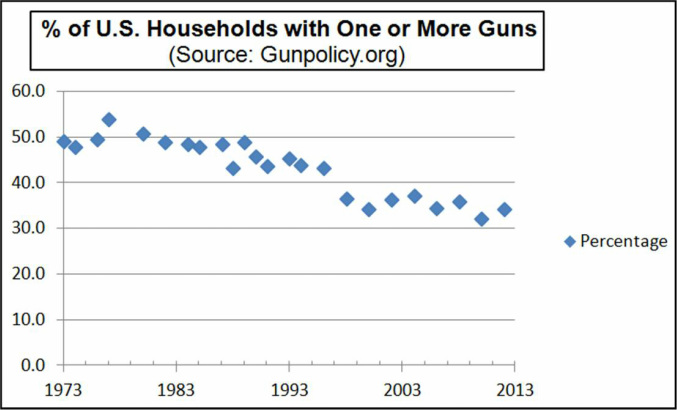 I thought the above chart reflecting data from Gunpolicy.org would wake-up some of you dormant gun owners. The chart reflects the significant steady decline of U.S. households that own firearms from
49.1%
in 1973 to only
34.4%
in 2012. The anit-gun movement has worked its way into our schools and elected offices to implement misinformation programs and the spread of rampant lies against why household's should not own a gun. This trend only rewards criminals and our threats throughout the globe that seek citizens of the United States to become less safe and capable of defending themselves. This number reflects a growth in the population but no growth in household gun ownership over the years. All gun owners must make a commitment to increase gun ownership in their communities, and I mean every community even New York City and Chicago to stop this weakening trend. Everyone must "
spread the importance of gun ownership, gun safety and gun handling to youth"
throughout America to offset this trend. Start with organizations such as Boy Scouts to start spreading this important message. Thank you Gunpolicy.org for opening my eyes!
Things you can do today.
1. Buy another handgun, rifle or pistol. Transfer a firearm to a law abiding family member who does not have one in their household.
2. Give ammunition and accessories as a holiday or birthday gift.
3. Know your elected representatives background. (For Example, Gov John Kasich voted for the 1994 Assault Weapons Ban. One of only 46 republican members of congress to do so. Based on Ohio's continual morale decline it makes you wonder about the elected officials of that state.)
4. Join the NRA, or purchase an NRA membership for a family member.
5. Participate in a gun safety course and teach what you've learned to others.
6. Acquire a Conceal Carry Permit. Based on these numbers law enforcement needs assistance.
The following is the numerical equivalent of the attached graph for the
Percentage of U.S. households with one or more guns (Souce: Gunpolicy.org).
2012: 34.4
%
2010: 32.3%
2000: 34.3%
1990: 45.8%
1980: 50.8%
1973: 49.1%