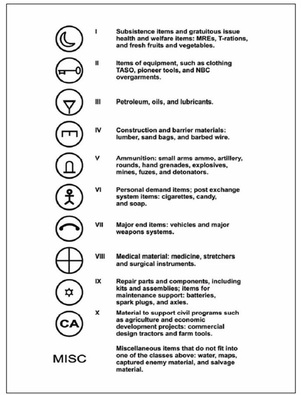 During operations, leaders normally deploy with 72 hours worth of supplies. To assist in mission planning all supplies are categorized within 10 major categories, referred to as "Classes of Supply." For supply requirement planning, unit's start with their basic loads as stated in their SOP and add additional requirements based on mission time frame, weather conditions, proximity to resupply, and enemy situation. When discussing supply needs it is standard language to refer to specific requirements by addressing them as Classed of Supply. For light infantry missions, leaders reference most Class I (rations and water), Class IV (sand bags), Class V (ammunition), Class VIII (medical) and Class IX (equipment repair parts and batteries) to summarize in a concise narrative their needs. If a "Class of Supply" is not relevant to a mission it is not referenced or annotated as not applicable.

For example, subordinate guidance may reflect all individuals are to carry the following items:
CLASS I: four MREs, six quarts of water, iodine tablets.
CLASS IV: 12 sand bags.
CLASS V: M4 - 210rds 5.56 Ball, M249 - 625rds 5.56 Ball, Link (4:1 mix), M240B - 825rds 7.62 Ball, Link (4:1 mix), M203 - 12rds 40mm HEDP, 4rds 40mm Illumination.
CLASS VIII: All IFAKs fully stocked, one CLS bag per team.
CLASS IX: Ensure all individuals have fresh batteries for all Radios, NVDs and Laser Designaters.

FM 3-21.8 The Infantry Rifle Platoon and Squad (MAR'07) field manual provides the following additional information on "Classes of Supply Considerations" for the rifle platoon.
CLASSES OF SUPPLY CONSIDERATIONS - The platoon sergeant obtains supplies and delivers them to the platoon. The platoon leader establishes priorities for delivery, but combat demands that Class I, V, and IX supplies and equipment take priority because they are the most critical to successful operations.
CLASS I - This class includes rations, water, and ice. It also includes gratuitous issue of items related to health, morale, and welfare. The "Daily Strength Report" triggers an automatic request for Class I supplies. Personnel in the field trains prepare rations and deliver them with the Logistics Package (LOGPAC). If the unit has special food requests, they must request them (for example, if a mission calls for MREs in lieu of planned hot rations).
CLASS II - This class includes clothing, individual equipment, Mission-Oriented Protective Posture (MOPP) suits, tentage, tool sets, and administrative and housekeeping supplies. The platoon sergeant normally distributes expendable items such as soap, toilet tissue, and insecticide based on battalion and company LOGPAC schedules.
CLASS III - This class includes bulk and packaged Petroleum, Oil, and Lubricants (POL) products, which Infantry platoons do not normally require. Unusual Class III requests are coordinated by the company and then delivered to the battalion combat trains.
CLASS IV - This class includes construction materials, pickets, sandbags, and concertina wire.
CLASS V - This class covers all types of ammunition and mines including, C4, and other explosives.
CLASS VI - This class includes personal-demand items including, candy, soaps, cameras, film, and sundry packets that are normally sold through the exchange system.
CLASS VII - Infantry platoons do not normally have vehicles. However, this class includes major end items such as major equipment and vehicles. Battle loss reports trigger the issuance of Class VII items.
CLASS VIII - This class covers medical supplies. The BAS replaces combat lifesaver bags and first-aid kits on a one-for-one basis.
CLASS IX - This class includes repair parts and documents required for equipment maintenance operations. Repair parts are issued in response to a specific request or are obtained by direct exchange of repairable parts. The latter can include batteries for NVDs, and man-portable radios. In combat situations, exchange and cannibalization are normal ways to obtain Class IX items.
CLASS X - This class includes materials to support nonmilitary programs such as agricultural and economic development. Division level or higher will provide the platoon with instructions for requesting and issuing Class X supplies.