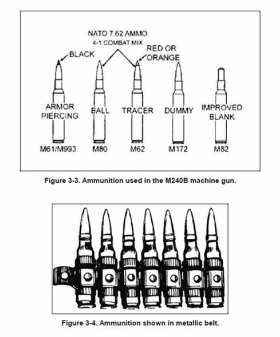 Federal is selling a significant amount of M80 7.62x51 ammunition at most large and small hunting stores for $16 per box of 20rds. This is a great NATO quality round for your 308 rifles and provides a strong case for reloading. When this ammunition is sold commercially an "X" is added to the military nomenclature to signify it is not being sold for military use, re-designating the cartridge as "XM80." This ammunition is normally linked for use in our military's medium machine gun (M240B) which is used by our infantry forces and also used as a coaxial machine gun (M240C) mounted in armored vehicles. To provide additional information about the M80 cartridge and other NATO 7.62 ammunition hitting the civilian market, the following narrative and diagrams are from FM 3-22.68 Crew Served Machine Guns 5.56 and 7.62 (July 2006).

The M240B machine guns use several types of standard 7.62-mm ammunition. Figure 3-3 shows the types and their characteristics. Soldiers may only use authorized ammunition manufactured to US and NATO specifications. Ammunition for the M240B is issued in a disintegrating, metallic, split-linked belt (Figure 3-4).

The M240B machine gun uses the following types of ammunition. See also table 3-3:
• Cartridge, 7.62-mm Ball M80—for use against light materials and personnel, and for range training.
• Cartridge, 7.62-mm Armor-Piercing M61—for use against lightly armored targets.
• Cartridge, 7.62-mm Tracer M62—for observation of fire, incendiary effects, signaling, and for training. "When the gunner fires tracer rounds, they mix with ball ammunition in a ratio of four ball rounds to one tracer round."
• Cartridge, 7.62-mm Dummy M63—for use during mechanical training.
• Cartridge, 7.62-mm Blank M82—for use during training when simulated live fire is desired. The gunner should use a blank firing adaptor (BFA) to fire this ammunition.