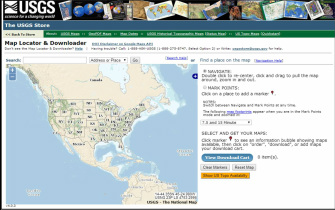 Download a free topographical map of your area using US Geological Survey's Map website at the following link
USGS MAP Locator and Downloader.
The attached picture is a screen shot of the Map Locator and Downloader page. Once on the locator page, provide the address for the area you would like a map for, follow the directions to download the PDF. The provided maps include contour lines, which show the shape and elevation of the terrain for your area. Topographical maps are a must for map reading and terrain identification. These maps greatly increase the map reading learning process when you're able to walk terrain and reference the topographical map to see the relationship between the map's contour lines and the terrain within your area. Topo maps are also a great resource for setting up land navigation and orienteering courses. In addition to training, a detailed topographical map is required for planning tactical operations and command post mission tracking. Map reading is basic skill that should by everyone.
Topograhical maps provide the user the ability to reference Contour Lines that are helpful when identifying Major Terrain Features to include Hills, Ridges, Valleys, Saddles, Depressions, Draws, Spurs and Cliffs. Terrain features are depicted on maps with Contour Lines that illustrate how a three-dimensional object (length, width and height) would appear on a flat surface (length and width only). The attached pictures show this relationship between a terrain feature as seen with our eyes, and then shows how that image would look if flattened. The bottom section of each example displays the relationship of the terrain feature to the map's contour lines used to display the terrain feature. The distance or gap between contour lines is the Contour Interval and is found in the map's legend. The contour interval represents the Elevation of terrain above sea level. Relief is another term to describe the way contour lines depict land configurations that show the shapes of hills, valleys, streams, or terrain features on the earth's surface.