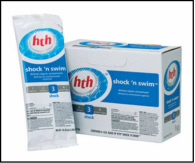 Download and print a copy of EPA's
"Emergency Disinfection of Drinking Water (PDF)"
information guide (see picture below for site overview).
A friend of mine recommended purchasing swimming pool shock treatments such as the pictured HTH Shock'n Swim (calcium hypochlorite) sold at Walmart for $12.97, as a cost effective solution for disinfecting water. This item is packaged in 5 individually packaged 1 pound packets, making it easy to distribute to others.
The following guidance is directly from EPA's "Emergency Disinfection of Drinking Water (PDF)" that is available at their website. "
Always remember for chemical disinfect to be effective, the water must be filtered and settled first."
You can use granular calcium hypochlorite to disinfect water.
Add and dissolve one heaping teaspoon of high-test granular calcium hypochlorite (approximately ¼ ounce) for each two gallons of water, or 5 milliliters (approximately 7 grams) per 7.5 liters of water. The mixture will produce a stock chlorine solution of approximately 500 milligrams per liter, since the calcium hypochlorite has available chlorine equal to 70 percent of its weight. To disinfect water, add the chlorine solution in the ratio of one part of chlorine solution to each 100 parts of water to be treated. This is roughly equal to adding 1 pint (16 ounces) of stock chlorine to each 12.5 gallons of water or (approximately ½ liter to 50 liters of water) to be disinfected. To remove any objectionable chlorine odor, aerate the disinfected water by pouring it back and forth from one clean container to another.