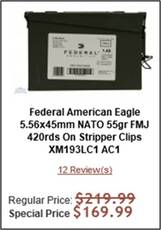 Palmetto State Armory is selling Federal's 5.56 NATO Bulk Packs for $169,
Federal American Eagle 5.56x45mm NATO 55gr FMJ 420rds On Stripper Clips XM193LC1.
At $0.40 a round, this deal is hard to pass on. This ammunition is ready to go with 420 rounds of M193 5.56 NATO 55gr ammunition loaded on stripper clips, ready to go in cardboard silencers, ammo can and includes magazine adapter (see pictures below loading USGI and MAGPUL mags). This ammunition is prepared for an all in one grab-and-go solution that is set up for fast reload of USGI hi-capacity magazines. The included ammo can makes this a great item to put directly into storage for future use. This product has decreased in price significantly from what they were selling for last year. Keep stocking up!!!
Don't be one of those friends who say they wish they would have bought this ammunition when prices were low. You know who you are!