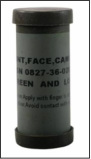 Ensure your bugout bags and tactical rigs include "Camouflage Face Paint" to cover exposed skin that can reveal your position when concealment is a must. Midway USA is offering the following camouflage stick for $1.59,
5ive Star Gear Mil-Spec Camouflage Face Paint Stick
which mirrors the military's standard camouflage colors "Loam and Green." Exposed skin reflects light and may draw the attention of others. Even very dark skin, because of its natural oil, will reflect light. When applying camouflage to your skin, work with a buddy (in pairs) and help each other. If you need to apply the camouflage to yourself use your signal or shaving mirror to make certain all exposed skin areas are covered. Apply a two-color combination of camouflage pigment in an irregular pattern.
Paint shiny areas (forehead, cheekbones, nose, ears, and chin) with a dark color. Paint shadow areas (around the eyes, under the nose, and under the chin) with a light color.
In addition to the face, paint the exposed skin on the back of the neck, arms, and hands. Palms of hands are not normally camouflaged if arm-and-hand signals are to be used. Remove all jewelry to further reduce shine or reflection.
When camouflage sticks/compacts are not issued, use burnt cork, bark, charcoal, lamp black, or light-colored mud.
Do not apply camouflage paint if there is a chance of frostbite. Include group camouflage procedures as part of your SOP and conduct training on proper application. Prior to any mission, during rehearsals/final inspections leaders must make sure camouflage is applied correctly.