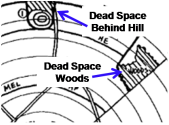 It is important to identify dead space around your position or within a sector of fire to deny threats the advantage of using terrain that can mask their movements to your position. As mentioned in an earlier post "Dead space is any area that cannot be observed or covered by direct-fire weapons systems, including where the waist of a Soldier falls below a gunner or automatic rifleman's point of aim. When stationary, the most accurate method for determining dead space is to have one Soldier walk the weapon's line of sight and make a pace count of those areas where he encounters dead space. When the Soldier is not able to walk the line of fire, he can also determine dead space by observing the flight of tracer ammunition from a position behind and to the flank of the weapon. All dead space within the sector must be identified to allow the leader and subordinate leaders to plan high trajectory fires (mortars, artillery, or M203) to cover that area" (FM 3-21.8 The Infantry Rifle Platoon and Squad 2007). Arm-and-hand signals must be used to control the individual who is walking the dead space to obtain an accurate account of where deep depressions within the dead space occur. Dead space is annotated on a position range card by depicting the dead space area with a closed solid line, with diagonal lines throughout the shape (see attached example).

Additional Considerations:
• Units must provide local security over dead space/blind spots that direct fire weapons cannot cover. Ensure observation posts are annotated on sector sketches to prevent fratricide.
• In urban environments, dead space to a position's front changes continually due to rubble and other damage to structures. In urban terrain, dead space, cover, and concealment can only be identified physically and may change considerably as operations are executed.
• During offensive mission planning, leaders must analyze terrain to identify dead space to remove the enemy's advantage of observation and fields of fire that may favor him. To be successful, the friendly attacking element must neutralize this advantage by identifying dead spaces where the enemy cannot see or engage friendly elements.
• During maneuver dead space should be used for multiple friendly support-by-fire positions that are necessary to support a complex scheme of maneuver which cover the unit's approach.